Over the past several years we have seen Mason Jars become more and more popular. There are so many creative ideas you can do to create beautiful crafts.
Don't have any Mason Jars around? You can also use old jar sauce cans for most of the projects as well.
No matter what you choose to work with, we think you'll love these mason jar crafts!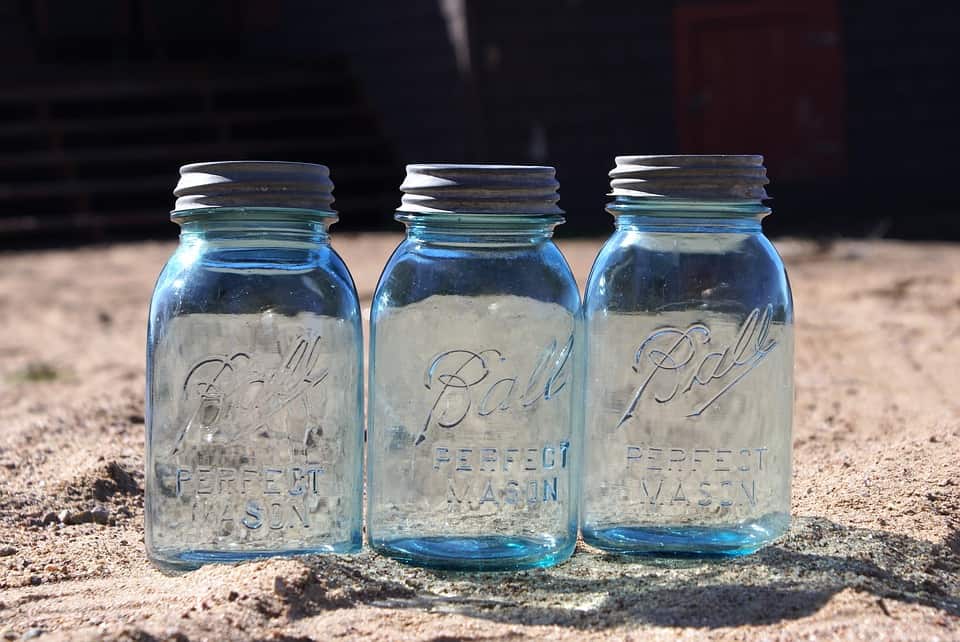 Here are some of our favorite mason jar craft ideas:
Photo Frame Mason Jar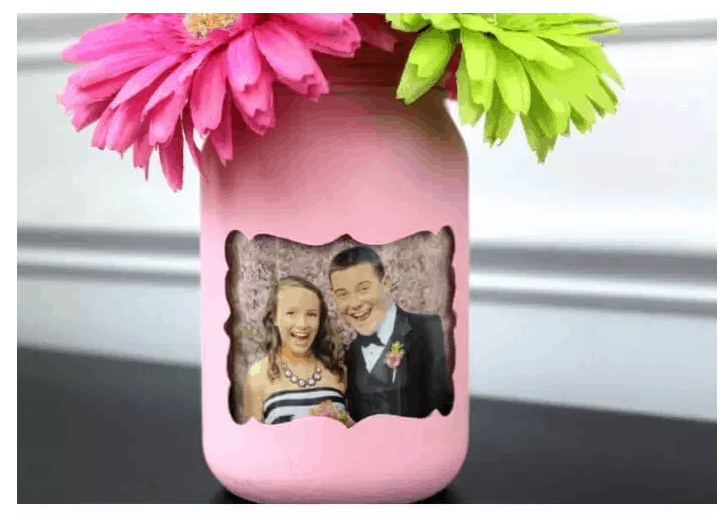 Source: https://farmfoodfamily.com/mason-jar-ideas-for-valentines-day/
You will need paint, scissors, tape, mason jar, and a stencil of the shape you want the photo area to be.
How to make this:
Start out with finding the photo you would like to feature.
Then tape the shaped stencil onto the mason jar
Paint around the shape
Let dry
Once dry remove the stencil
Tape the photo onto the inside of the jar
Add colorful flowers or whatever you like into the jar
---
Scented Mason Jars Candles

Source: https://hearthandvine.com/make-mason-jar-oil-candle-lamp/
To make these candles you will need mason jars, olive oil, cinnamon sticks, dried orange slices, small pine cones, and essential oils.
How to make:
If you have one you can use a wooden skewer or old pencil tp position the items where you want them
Add essential oils to your olive oil
Fill your jar with oil
Add your floating wick
*Make sure to never leave candles unsupervised.
---
Mason Jar Soap Dispensers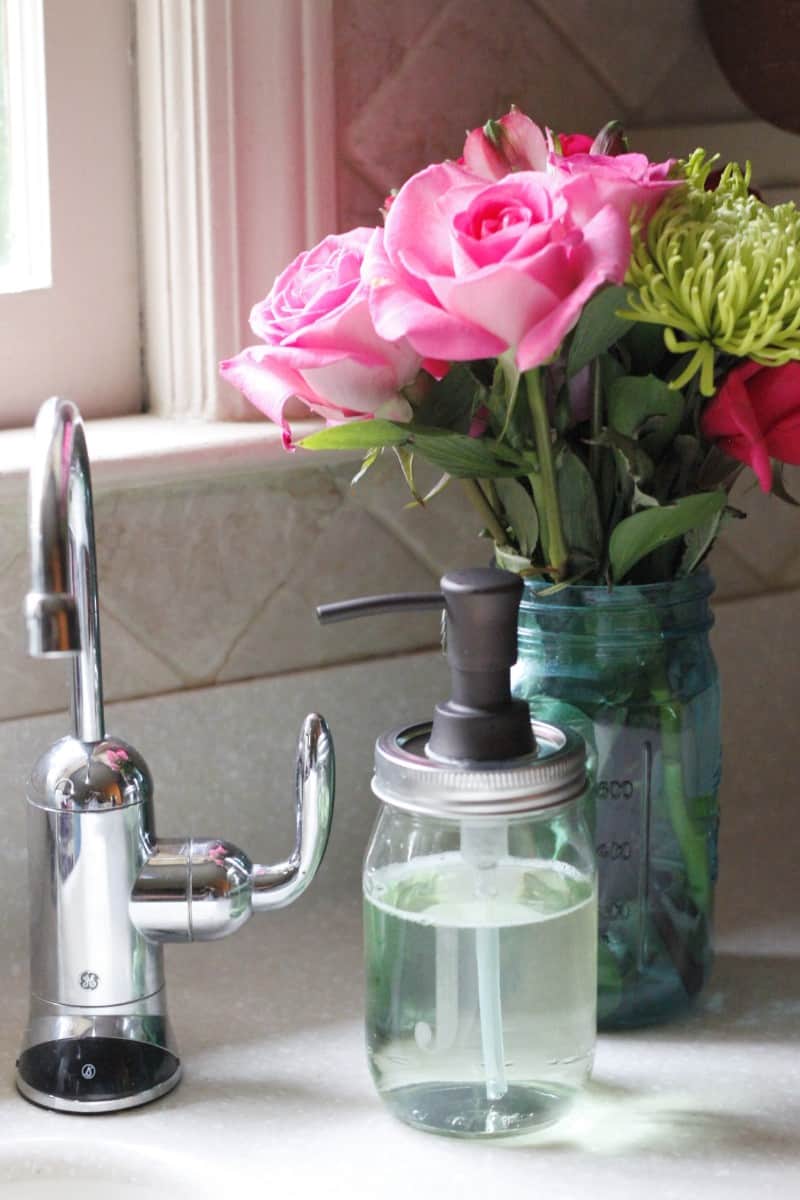 Source: https://www.personalcreations.com/blog/mason-jar-soap-dispenser
To make the DIY Mason Jar Soap Dispenser you will need Mason Jar with lid, soap pump, drill with a large diameter bit, strong glue or super glue, and soap.
How to make:
Make a hole in the lid large enough to fit your soap dispenser pump
Test the fit to ensure it fits snug
Measure the tube on the pump and cut off the excess from the bottom to ensure it fits in the mason jar (cut at an angle to avoid poor suction)
Squeeze your glue into the bottom of the pump and insert it into the lid hole
Wipe away excess glue
Add glue onto the bottom of the lid around the pump
Make sure to let it dry completely
Add your favorite soap and screw on the lid
---
Mason Jar Tissue Holders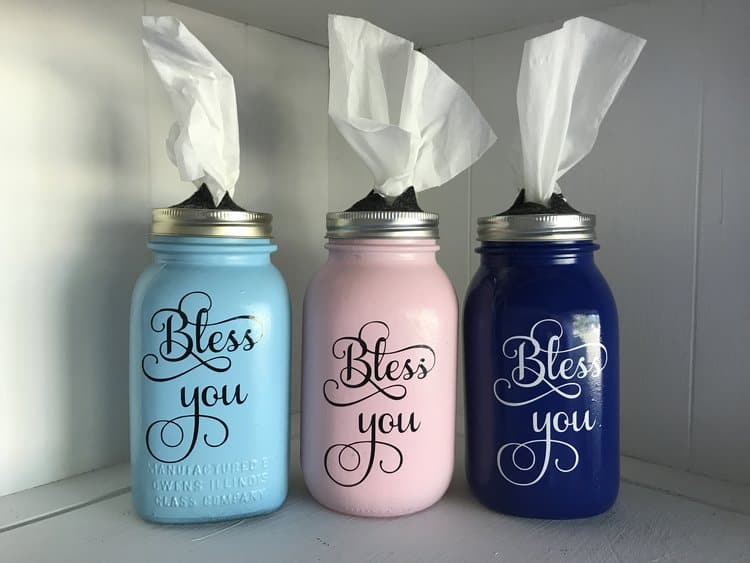 Source: https://www.daytodayadventures.com/blog/how-to-paint-mason-jars-so-they-dont-chip
To make a Mason Jar Tissue Holder you will need smooth-sided mason jars, spray paint or chalk paint, a foam brush, sponge or sponge makeup wedge, waterbased clear matte Polycrilic, silhouette or Cricut cutting machine, transfer tape, oracel 651 vinyl, glue gun, craft felt, OLFA rotary circle cutter, tissues, and a Bless You Decal.
How to make:
Clean your jars with alcohol
Use your foam brush to paint a layer of Polycrlic onto the jar and let it dry for at least 30 minutes
Paint your jars and let dry
Use the foam brush to add another layer of Polycrilic to help seal the paint and let dry completely
Preheat oven to the lowest heat (around 170 degrees) and bake your jar for about 20 minutes
Design and cut the words Bless You or whatever you like onto the jar
If using a decal apply to your jar with transfer tape
Cut a 2.5-inch circle of felt and then cut an X in the center of the circle
Use a glue gun to attach the felt circle to a metal lid
Fill the jar with tissues
Pull tissue through the cut in the felt and screw on your lid
---
Mason Jar Chandelier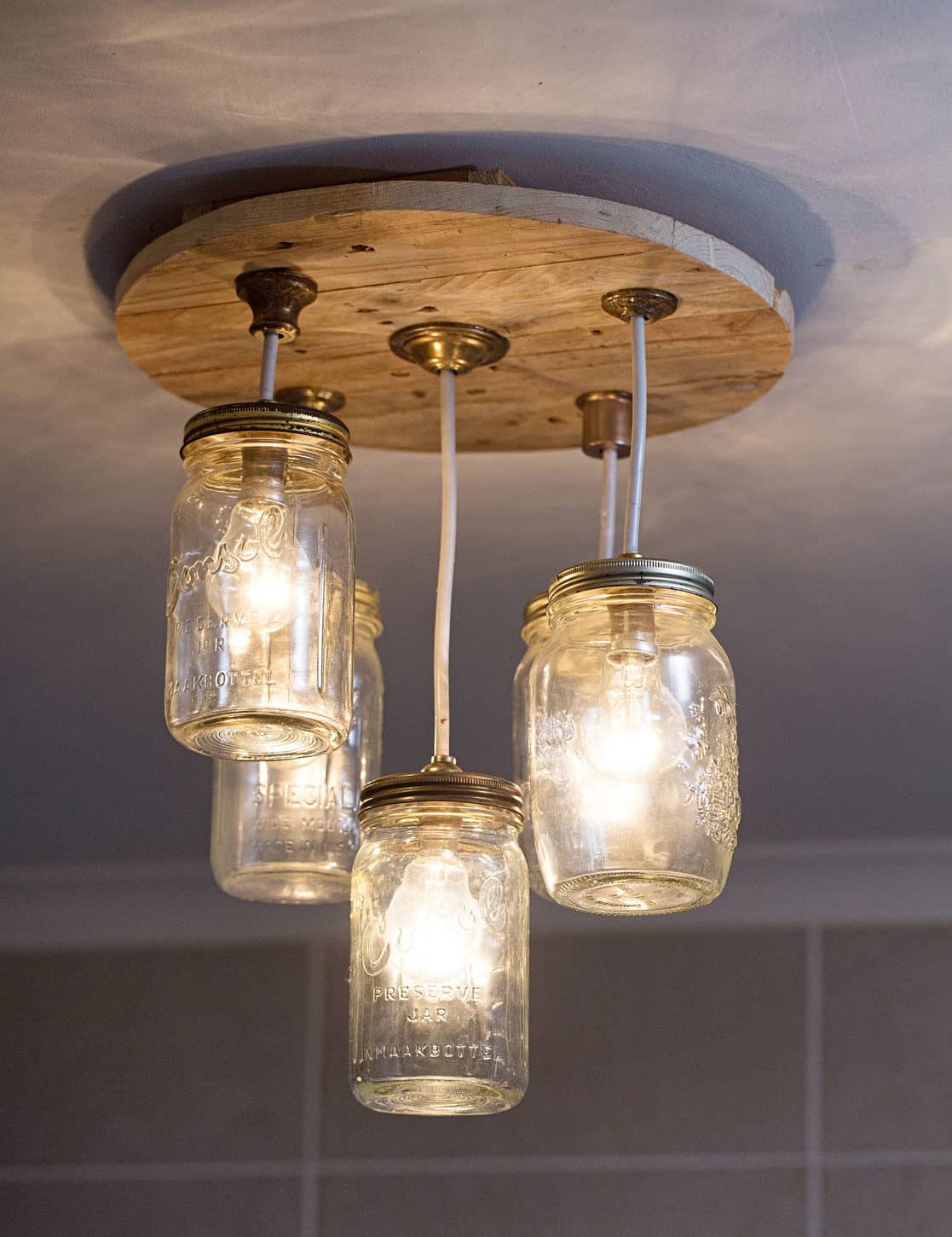 Source: https://www.gardenandhome.co.za/decor/diy/diy-mason-jar-chandelier/
To make a Mason Jar Chandelier you will need safety gloves, a drill, 25mm drill bit, 5 mason jars with screw-on lids, 5 light fittings, 5m of 8mm electrical cord, cutter, a piece of wood, pencil, jigsaw, 8mm drill bit, nails, and sturdy screws.
How to make:
Using your 25mm wood drill bit make a hole in the center of each lid big enough for the electrical light fitting to fit securely
Use a smaller drill bit to make small holes around the center hole (these will allow hot air to escape when the lights are on)
Attach the light fittings to each one of your lids and tighten
Cut the electrical cord into 5 equal pieces and attach them to the light fittings
Using your jigsaw, cut a circle with a diameter of around 40cm from the wood of your choice
Position your jars in the way you will want them to hang from the wood and mark that spot with your pencil
Drill through the wood on each mark using an 8mm drill bit
Pull the electrical cable through each hole and adjust it to the desired height and strip its ends (you can keep the cords in place with a bent nail or two)
Connect the wires to each other so that all the blue wires from one connection and the brown wires for another connection
Attach these wires to the electrical connection in your roof (Secure the light fitting to your ceiling with the screws).
Need help finding materials to make all these mason jar crafts projects? Check out our post on 11 popular online craft stores!
Happy crafting!