Have you ever been bored and looking for something to do, but just aren't sure how to occupy your time? You don't necessarily want to watch television or play on the computer as you are in the mood to do something unique and creative. Fortunately, there are several crafts that you can make when you are bored. Many of them just require materials that you probably already have at home, so you won't have to purchase any supplies to make them.
1. Inspiration Board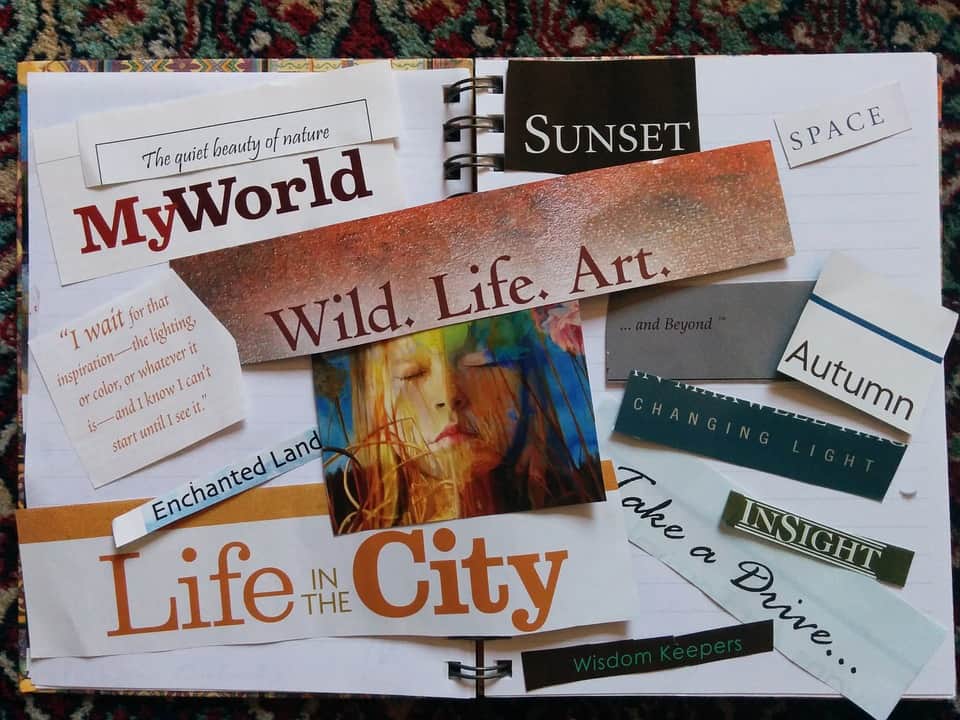 Photo Credit: Pixabay
Source: https://www.tckpublishing.com/how-to-make-an-inspiration-board/
Supplies Needed: Old magazines, paper, glue, scissors
Do you have a bunch of old magazines laying around the house that you've already read? If you do then this is the perfect craft for you. An inspiration board can help you stay positive when times are tough or when you are looking for something to provide you with encouragement when you are trying to reach a certain goal in your life. To make an inspiration board, first determine what your theme is. For instance, if you want to visit a certain place then your theme would be travel. However, if you just want a board to provide you with encouragement, your theme should be positive words or pictures that make you feel good. After you've decided your theme, round up all the magazines that you have and cut out anything that you find that fits in with your theme. Then, glue all of these items onto a piece of paper, or even a poster board if you have one available. Once the glue has dried, find a prominent place in your home to hang up your board so that you can view it everyday and get inspiration from it.
2. Rustic Vase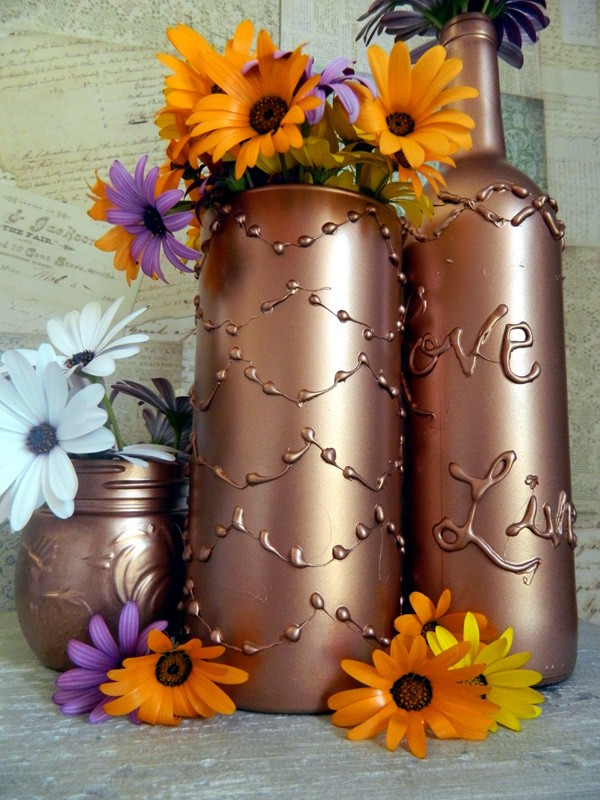 Source: https://www.homeheartcraft.com/decorating-a-vase-with-hot-glue.php
Supplies Needed: Sticks, scissors, plain glass, hot glue gun and glue sticks
This craft is a great way to turn a plain glass you aren't using into something that you can display beautiful flowers in. To begin, choose a large glass that is plain and doesn't have any sort of decorations or emblems on them. Next, go outside and collect about 10-15 sticks. Once you find all of the sticks, head back inside. Plug your hot glue gun in to let it warm up. Use scissors to cut the sticks down so that they are about half an inch taller than the height of your glass. You don't have to cut the sticks exactly the same length. Attach the sticks to the outside of your glass using a hot glue gun to make a beautiful, rustic vase. Afterwards you can fill with flowers.
3. Personalized Coffee Mug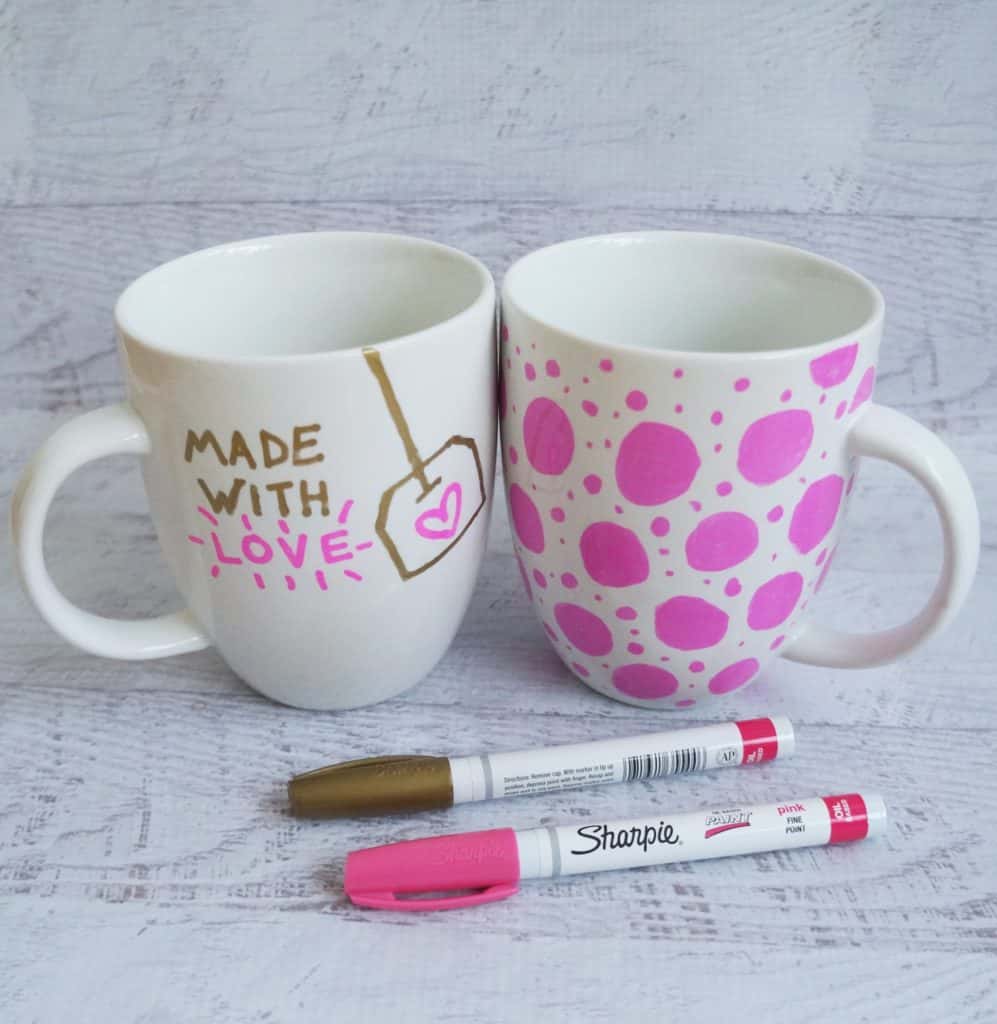 Source: https://www.popsugar.com/smart-living/Sharpie-Mug-DIY-Project-24955886
Supplies Needed: Plain coffee mug, permanent markers, oven
Many of us indulge in a cup of coffee every morning. What this means is that our coffee mugs get a lot of use! You can enjoy your coffee even more or make a memorable gift to give to a loved one by creating a personalized coffee mug. This craft is easy to make and will prove to be a useful gift. To start, you will need a plain mug of any color. Then, use permanent markers to create a design on the mug. You can use any colors that you like and can make any design. If you are making the mug for someone, choose a design that will be meaningful for them. Once you are finished decorating the mug, place it in a cold oven. Turn the oven's temperature to 450 degrees. After it is preheated, set a timer to 30 minutes. Once the timer has gone off, turn the oven off, but leave the mug inside. Set the timer for another 15 minutes and once it goes off, crack the oven door open. Let the mug sit inside overnight to allow the permanent markers to set completely. The next morning the mug can be removed and is ready to use.
4. Tin Can Windsock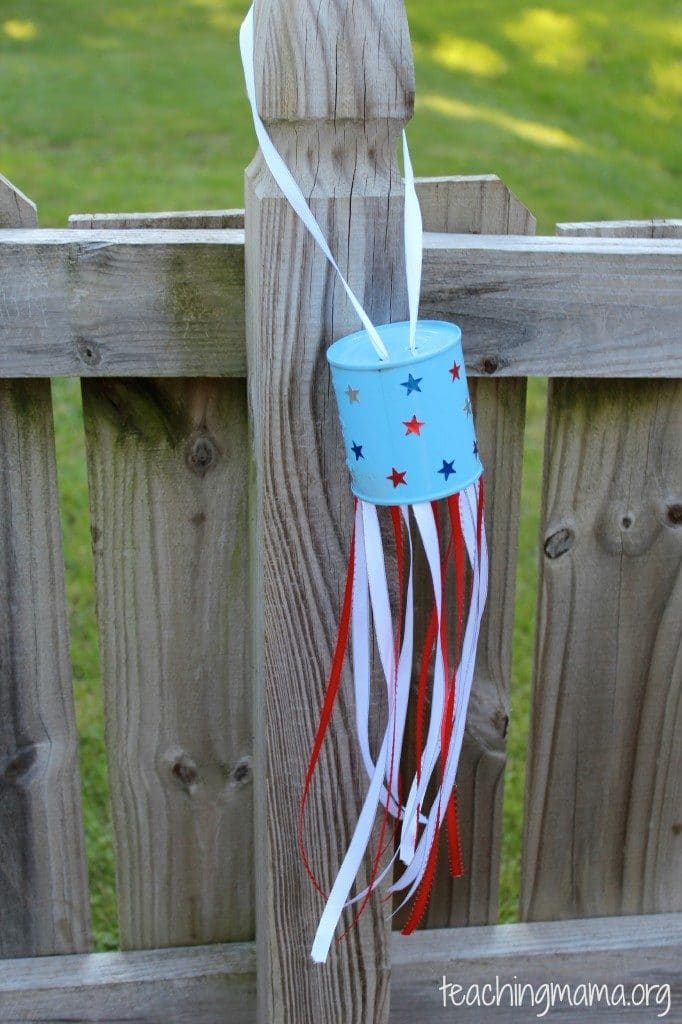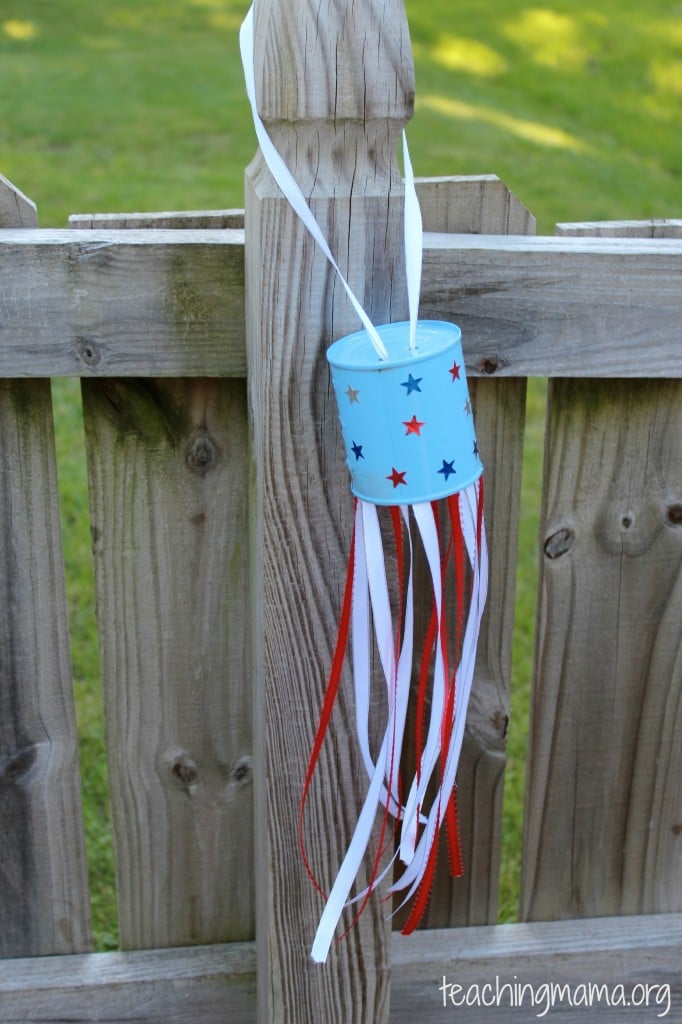 Source: https://teachingmama.org/tin-can-windsock/
Supplies Needed: Tin can, ribbon, scissors, hot glue gun, glue sticks, screwdriver, hammer, paint, paintbrush, bells (optional)
Almost all of us have a tin can in our pantry. Soups and vegetables are commonly packaged in them and once you have opened one to remove it's contents, you don't have to throw it away. You can use it to make a tin can windsock. To begin, remove the label from the tin can and wash the inside and outside of it thoroughly. Dry it and set down with the unopened side facing up. Place a screwdriver on the top and hit it with a hammer to make a hole. Make another hole about half an inch apart. Paint the outside of the tin can anyway you like. You can paint it one color or make a design. Set aside and let dry.
When the tin can is fully dry, plug your hot glue gun in so that it warms up. Use scissors to cut ribbon in about 2 foot strands. You should cut around 15 pieces. Glue about half an inch of a piece of ribbon to the inside of the tin can. Continue glueing pieces around the inside until there is no more ribbon left. Cut a 3 foot section of ribbon and string through the holes in the top of the tin can and then tie a knot inside. This will be used to hang it up. If you'd like, you can also string bells through the bottom of each of the 15 pieces of ribbon so that your windsock makes noise on a windy day.
As you can see, there are a variety of different crafts that you can make at home. One of the nice things about all of these crafts is that you really don't need any special materials to make them. Most of the items you'll need you probably have at home anyway. So the next time you are bored, don't just sit around wishing you had something to do. Make a craft that you can display around your home or give to someone as a gift.