Pipe cleaners should be one of the essentials in your craft closet. There's nothing they can't do.  These twisty wonders bend, twist, spiral, curve, coil – the list goes on and on.
Share some quality time as a family and make these kid-friendly craft ideas we've listed below. They're guaranteed to have a blast – no matter how old they are!

A Little About Pipe Cleaners
A fun fact: pipe cleaners were originally invented to clean smoking pipes. Yet, in recent years, they received a makeover. Now, they're one of the most popular and best-loved craft supplies.
They're available in all sorts of colors, sizes, and shapes. Some are even glittery and sparkly. But the one feature that makes them unique is the bendy wire inside. It's the reason why pipe cleaners are so fun to play with. This wire makes it easy enough even for little kids to bend and shape them as they please.
10 DIY Pipe Cleaner Crafts
We've pulled together 10 of our favorite DIY pipe cleaner Crafts. They're easy to make, mess-free, and child-friendly.

Source: Pinterest
A Statement Necklace
Necklaces are easy to make, and they look beautiful in all colors. Gather 6 or 7 pipe cleaners. Twist the end together to join them all in one long chain necklace.
To make them even more stylish, try adding some beads or artificial flowers.
They're a great idea if your girl is having a sleepover party for her friends. They'll have a blast making them together. Plus, they get to take them home as party favors.
Variation: they can also be worn as a belt or a flower-girl crown.

Source: Nest of Posies
Awesome Cake toppers
Looking for a new and fun way to decorate your cake? Why not use pipe cleaners?
You can shape them into any number you want if it's for a birthday party. They can also be turned into stars, swirls, or any other shape.
The best part? You can choose their colors to match the occasion. For Easter, get some pastels; for the 4th of July, get some red, white, and blue. You get the idea!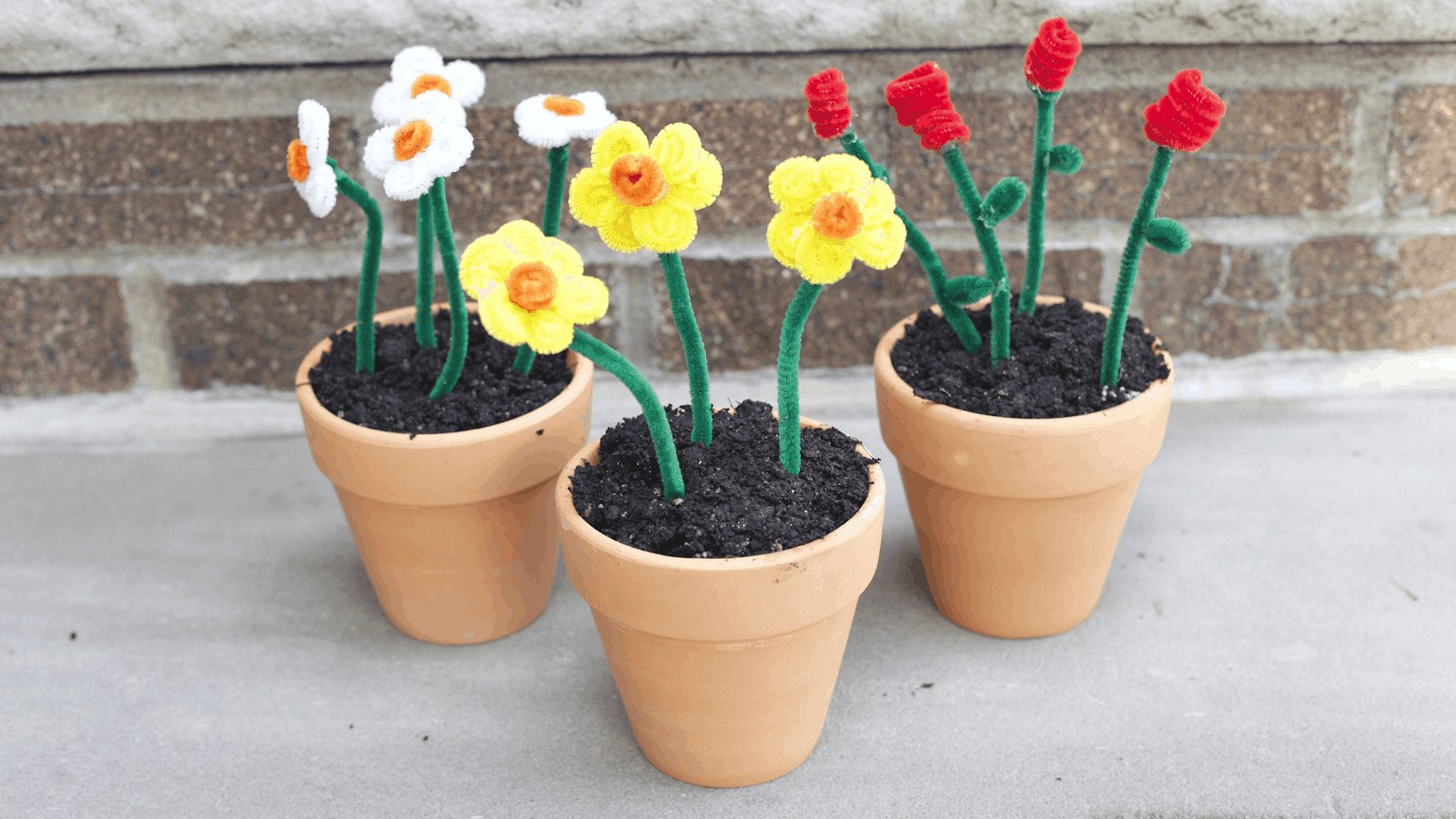 Source: Spruce Crafts
Mini Spring Flower Pots
Make some pretty flowers using bright-colored pipe cleaners. Wrap some colorful pipe cleaners around a pencil to get a swirl effect. The rest, you can shape into petals by hand.
For the stems, wrap one end of the green pipe cleaners around the flowers' end to join them. Then place the other end in the container.
You can make sure they stand up straight using a bit of glue or tape.
Source: The Realistic Mama
Stylish Beaded Bracelets
This is a craft that's simple, cute, and easy to make. Your little girl can mix and match her bracelets for each one of her outfits. She can even make some for her friends or give them away as a gift.
Have your kid pick out some beads. Find a pipe cleaner that closely matches the color theme of the beads. Thread it through the beads.
When she's done, wrap it around her wrist to get the right fit. Then, twist the pipe cleaner's ends carefully over one another to make sure they don't easily open.

Source: Smashed Peas and Carrots
Royal Crown
Every princess (and prince) needs a crown. So grab some pipe cleaners and get started.
Tie together a couple of pipe cleaners to form the base of the crown. You should have a circle. Another option would be to wrap the pipe cleaners around a headband.
Next, bend 5 pipe cleaners to make V-shapes. Wrap each end to the base of the crown.
For added flair, you can glue small pompoms to the tops of each triangle. Why not add some sparkly gems as well to complete the royal look?

Source: Red Ted Art
Bubble Wands
Pipe cleaners make great bubble wands! You can even shape them into diamonds, squares, or hearts if you want to change up the traditional circles look.
You can add beads to the handle to give it a bling factor. Plus, it keeps it straight and upright.
Source: Mom.com
Wrapped Easter Eggs
Why not try something a bit more fuzzy with your Easter eggs? Instead of using traditional plastic eggs, wrap them up in some fuzzy pipe cleaners. Use pastel colors to give them a familiar springtime look.
You can use contrasting colors to give the eggs a fresh, cool look.

Source: Fun Learning Life
Pipe Cleaner Bookmarks
With just a couple of simple craft supplies, you can make an adorable craft. Using jumbo popsicle sticks as your base, these flower-themed bookmarks will look great!
Get some pipe cleaners in your favorite colors. Shape each one into a small 5-petal flower. Glue it on one edge of the stick. For the middle part of the flower, you can add cute, colorful buttons or sparkly gems.
Source: Craft Meets Kids
Crafty pipe cleaner Glasses
These elegant-looking glasses are the perfect accessory to make your New Year's Eve complete. And you don't even need other supplies, just similar colored pipe cleaners, and you're set.
Variation: you don't have to wait for the new year to roll around to rock these stylish glasses. You can make them fit any occasion, such as Halloween, birthday parties, St. Patrick's Day – you name it.
Source: Paper Chase
pipe cleaner Pencil Toppers
These cute pencil toppers will make writing that much more fun. Nothing beats something you made with your own hands, and these are no exception.
Choose your favorite colors, then wrap them around the end of your pencil. You may need to cut each pipe cleaner in half, so it covers only the top third of your pencil.
Cut out some yellow cardstock for the beak. Add a pair of small googly eyes, and you've got yourself an adorable bird.
For the finishing touch, add a couple of short feathers in contrasting colors.
Final Thoughts
Pipe cleaners are one of the most versatile craft supplies you'll find. They're every mom's (and teacher's) favorite because they're mess-free. Plus, the number of activities you can do with them is virtually limitless.  We hope you and your littles have a blast spending time creating these pipe cleaner crafts together!