While you've surely heard of Michael's & Joanne, there are a lot more online craft stores to discover.  Sites like Craftsy, Blitsy, and Create for Less have grown significantly and offer everything from classes to supplies in order for you to improve your crafting skills and tackle different types of crafting projects. Learn more about 12 of our favorite online craft stores to find the one that best meets your needs.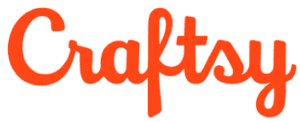 Craftsy
Craftsy (now known as Bluprint!) is an online site that offers craft education with high-definition interactive video tutorials and downloadable workshops.  It is not only for beginners but also the advanced crafter.  They have many projects for quilting to sewing, from painting to drawing, lots of kid's projects, cooking, baking, photography, embroidery, jewelry, spin, weaving and so much more.  Craftsy has many project kits you can purchase that includes all the supplies you will need to create your craft.  You can join Craftsy Unlimited (now called Bluprint) with a 7 day free trial and have access to literally thousands of instructional videos to choose from.
They have a community forum to exchange ideas and get helpful hints from other members.  And there are a lot of members with over half a million enrollments.  If you want to try your talent at icing and decorating a cake or making a quilt like Grandma used to make, you found your niche.  There is a multitude of information for all crafters to enjoy.  You can find Bluprint and Craftsy coupons on our site and others.
Blitsy
Blitsy is a modern and inclusive site for crafters who are looking to purchase supplies they need to turn their creative ideas into finished projects.  They offer a vast supply for paper crafts, from adhesives to die cutting and embossing machines and accessories, to card kits, embellishments, glitter and sequins, scrapbook paper and scrapbook kits, stamping, mats, albums, page protectors, foiling supplies, stickers and rub-ons.  Just about everything a paper crafter would need or want to finish their project.  Blitsy also carries numerous art supplies, from oil paints and mediums, pigments, studio easels, painting and palette knives, brushes, table easels, craft paint, clay, ceramic tools, canvas, and boards and panels.  They also have drawing kits, painting kits, project kits, and sketching kits.  And if you little crafters at home they have all your paper mache needs, markers, pens, scissors, storage boxes and containers, felt, foam, pipe cleaners, all the supplies for a fun kid project.  They offer inspiration and ideas with their blog and videos to get your creative juices flowing.

Create For Less
Create For Less is a great online craft store that offers creative ideas and supplies at a great price.  They offer a huge assortment of sewing and quilting supplies with over 4,000 choices of thread, over 200 sewing notions, charm and trim embellishments, cutting boards and mats, thousands of buttons and fasteners, pins, pin cushions, hoops, rug making supplies, scissors, rotary rulers and templates and so much more.   Their scrapbooking and paper supplies are just as vast with about 20,000 items to choose from.  Create for less also has a wide assortment of beads and jewelry making items including beads, charms, cording, wire and findings.  Their crafts and hobby assortment includes paints, wood, glues and adhesives and many project kits.  If you a knitter or love to crochet they offer a massive assortment of yarns, floss, needles and knitting needles, crochet hooks and ideas and kits.  They have all the supplies for the crafty kids and also have art, school and office supplies, along with floral and garden, books and patterns and novelties.  They have a great assortment for any craft project and have great prices.

Consumer Crafts
Consumer Crafts is a great place for the thrifty minded crafter to find their supplies.  They offer a vast line of products including the most innovative craft trends and the newest designs and hard to find niche products.   They have over 30,000 items on their website with supplies for jewelry and beading, art supplies, paper crafting and scrapbooking supplies, floral supplies, creative party items, home décor, organizational and storage solutions for your craft supplies, and much more.   Consumer Crafts has a wide variety of fairy garden supplies including mirrors, beach and nautical miniatures, barnyard miniatures, miniature animals, miniature furniture, doors and windows, and succulent bouquets, branches and picks and much more.  Everything you would want to decorate your fairy garden.  They also offer innovative and stunning ideas for weddings, receptions, floral and bouquets, invitations, and wedding party gifts.
Consumer Crafts has a blog for all crafters to share their great creative ideas.  If you are looking for fabric, sewing notions, baking and party ware, jewelry craft supplies, kid's art projects and you want to find a great price, Consumer Crafts is the place to look.  They also have free shipping available for orders over $49.00.

Hobby Lobby
Hobby Lobby is an online craft store full of creative ideas to inspire newbie and talented crafters.   They offer numerous craft projects along with DIY videos in art, crafts, floral, frames , home décor, jewelry making, paper crafts sewing, wedding , just to name a few.  They have a weekly ad to promote what is new, seasonal projects, and great savings.  Their website is set up in departments to easily find the items you are looking for, whether it is for Scrapbooking, sewing and fabric, hobbies, art supplies, wearable art, party and baking, beads and jewelry and many more.  Hobby Lobby offers great savings and generally offers coupons for additional savings.  They have retail stores across the United States along with their convenient online store.  Hobby Lobby also has an email list to keep you up to date with all great specials and offers they currently have.  They also have a 90 day return policy for online orders to guarantee you are satisfied with your order.  If you enjoy crafting this is definitely a store you want to check out.

Creativebug
Creativebug is an online inspiration for crafters that want to find ideas and projects with detailed instructions and classes.  By joining Creativebug, you will have unlimited access to over 1,000 classes and new classes are released every day.  They have a wide variety of downloadable templates, recipes and patterns.  They offer classes in sewing, art and design, paper projects, quilting, knitting, crochet, cooking and home, jewelry, kid's projects and holiday parties.
They also offer free art and craft classes and a free trial to check them out.  The classes and inspiration come from volunteers, activists and teachers that want to share their treasured arts with you.  Creativebug website has a blog to share ideas and hints for all crafters.  They also have various promotions you can enter to win great prizes like gift certificates to Joann Fabric and Craft Store, Rebecca Ringquist Prize Pack including her book Embroidery Workshop and a Dropcloth Paisley Sampler or $240 of Chic Sheep Yarn & 6 Months of Creativebug.    Creativebug's pattern library and Creativebug classes are very detailed are for the beginners and most advance crafter.  You can find Creativebug coupons out there, and save even more.

Factory Direct Craft
Factory Direct Craft is an online craft store that offers a wide supply of supplies for crafters including candle making supplies, craft books, doll making supplies, kid's crafts, jewelry making, scrapbooking, wood, ribbons and trims and much more.  They have many seasonal and holiday craft supplies also.  They also have a primitive section which offers a wide array of Americana designs, barn stars, decorative accents, primitive dolls, signs and frames, textile and linens and wall art.  They also carry a great selection for special occasions like weddings, birthdays, bridal showers, luau and beach theme decorations, baby shower supplies, bridal showers supplies, just to name a few.
Factory Direct Craft has a blog on their website that offers many creative craft ideas with detailed instructions on how to create them.    They also offer wholesale prices for business minded crafters.  You can sign up for email alerts for what's new, sales and ideas.  They offer a return policy as their motto is to keep their crafters happy.

BJ's Craft Supplies
BJ's Craft Supplies is known for their great prices and wide selection.  Their craft supply offers everything from sequins, to rusty tin, straw, sand art, Styrofoam, tinsel stems, tissue paper, tools, purses and handles, ribbon, wire, paracord and the list goes on.  And if you bead, BJ's Craft and Supplies has a wide assortment of all kinds of beads from alphabet beads to flower beads to Mardi Gras beads.  They also offer many belt buckles and belt kits along with bolo making supplies.  They have clock parts, doll making supplies, jewelry making supplies, lamps and lighting, miniatures, sewing supplies, party supplies, scrapbooking and paper supplies and so much more.  If you are looking to make that perfect wind chime they have supplies and parts for that too.  They even carry music box movements and parts.
Whatever craft you choose you want to check out this site.  And of course they have a wide variety of project kits for you to choose from.  BJ's Craft Supplies also has a vast assortment of patterns and instructions for projects that are downloadable and free.

Michael's Arts & Crafts
Michaels is the largest arts and crafts retail chain in America.  They have over 1200 stores across the United States and Canada.  They also have a popular online store that has a vast assortment of supplies for arts and crafts from canvas to beads, to photo frames and floral collections, paints and fabrics, blanks like t-shirts and boxes and jars.  Michaels also carries some exclusive private brands including Recollections, Studio Décor, Bead Landing, Creatology, Ashland, Celebrate It, Art Minds, Artists Loft, Craft Smart, and Loops and Threads.  They have projects including instructions and the materials needed to create the project.  And, they have classes and events that you can attend in many of their local stores.
Their website is very user friendly and you can easily locate what you are looking for your project.  They offer a large wedding selection with creative ideas for the ceremony, reception, engagement party, and bachelorette party.   They offer a price guarantee if you find the exact item somewhere else and they will match that price with an additional 10% off.  They also accept competitor's coupons both online and in their stores.  They also offer bulk pricing and have many online coupons and sales.  No matter what you are searching for to complete your project, you will find it at Michaels and it will be a great price.

Save on Crafts
Save on Crafts has been an online craft store for over 16 years.  They have great ideas and supplies for weddings, events and home décor.  They have wedding decorations, seasonal decorations, vases, candle holders and even wood slabs and tree slices for your creative projects.  If you are looking for Bell jars, glass cloches, bottles, jars buckets and tubs, branches or burlap fabric, jute and linen; you have found your online store.  They have wood crafting supplies, wood burning tools, wood planter boxes, crates, bins and trays for your craft supplies.   If you want to create a terrarium, Save on Crafts has a wide selection of bases, planters, hanging glass balls and plants and flowers to inspire creativity in your project.  They also have a vast selection of home and garden décor.  And they have all the basics for your crafts and DIY projects.  And they have papermaking supplies, stretched canvas, tulle and mesh, abaca and sinamay rolls.  If you are looking for the unique supplies for your crafts you will find it at Save on Crafts.

Joann
Joann has a great online store along with many brick and mortar retail outlets.  They have a huge offering of fabrics if you are an avid seamstress, along with threads, lace, embellishments, needles, patterns, buttons, zippers, linings.  They have the product you need for any of your sewing projects including home décor fabrics.  They also have yarn and needle art supplies, jewelry making supplies, home décor and holiday ideas and projects, baking and party supplies and ideas, paper crafting, crafts and hobby supplies, and a great section for kids and teachers.  Joann offers inspiration with videos for great projects from painting, to sewing, to jar art, clay, yarn, ribbon just to name a few.  You can learn how to make a pizza blanket for your child or stripe triangle bean bag chair.  The ideas are endless.  If you prefer a classroom hands on style learning, Joann offers many classes at their local stores for crocheting, food crafting, knitting, jewelry, paper crafting, quilting, sewing, home décor and kid classes and that is not the end of their list.  Whatever craft you choose, you will be able to find a project, a class and all the supplies at Joann.

A.C. Moore
A.C. Moore is an American arts and crafts online retailer and also has numerous store locations on the East Coast.  They have many craft supplies and kits for various crafters.  They have decoupage craft projects, duct tape craft projects, painting crafts, mason jar crafts, and ribbon craft projects plus many more.  They also have cake craze features, Instagram projects, tie dye for summer fun, floral crafts and projects.  They offer many seasonal crafts including Christmas, Easter, fall, Halloween, Hanukkah, ornament, Thanksgiving, Valentine's and winter treats and crafts.  If you are looking for back to school crafts, or a new baby craft, birthday crafts, something special for Mother's Day or Father's Day you will find the project you want to create on A.C. Moore.  They offer great discounts and promotions and have a rewards program for the loyal shopper that rewards you with a monetary rewards certificate.  Just register and shop and earn some free craft supplies!