Emptying a bottle of wine is a piece of cake, especially if your favorite book or a TV show accompanies it. When you're done, you might consider throwing it in the trash, or even better, recycling your empty bottles.
There's a third and far better option, though. You can stack up on empty wine bottles and reuse them in creative ways as decoration or for other purposes.  In this tutorial, we'll recommend the top 10 DIY wine bottle crafts you should consider trying.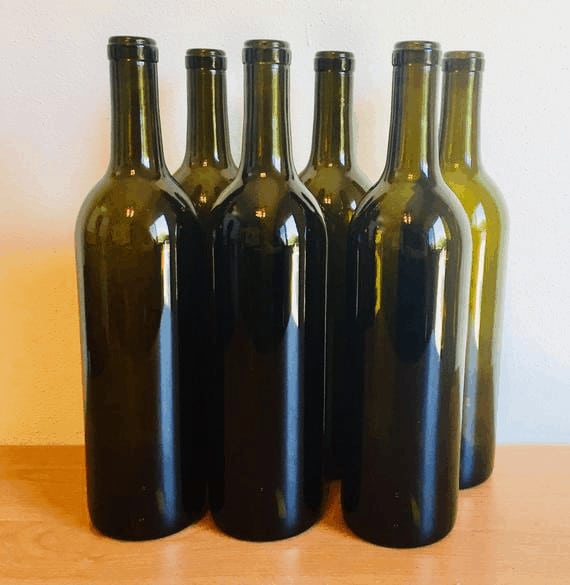 Source: Etsy
1. Create a Unique DIY Wine Bottle Vase
Due to the similarities in proportions or size, a wine bottle can be easily transformed into a vase to showcase your flowers. All you have to do is pick the material to wrap it with, and you should be ready to go.
You have a lot of options in this regard.
Source: Decoratorist
Glitter
Your clear wine bottle can shine even further with a layer of glitter. For this project, all you'll need is some glitter and glue. If you don't want to cover the whole bottle in glitter, you can use some tape on the parts that you want to remain empty. You can use tape to create different patterns with glitter.
This can be a great idea to use when you want to turn your glass bottles into wedding table centerpieces.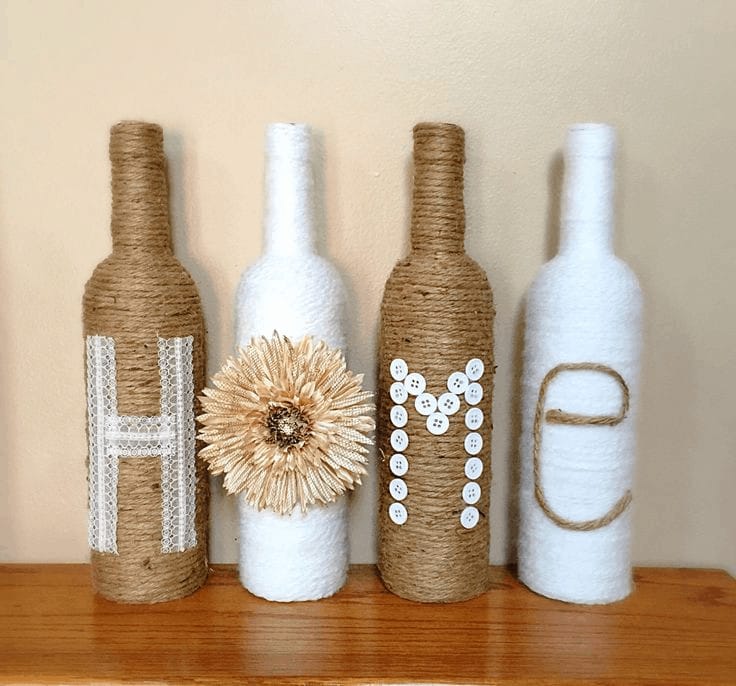 Source: DIY Discovers
Twine
You can also wrap your bottle in twine to match the cozy interior of your house. It gives off rustic vibes and a warm feeling inside.
It's as simple as circling the bottle with twine over and over from top to bottom. A glue gun can aid you along the way until you're done. These make a cute piece of home decor for a wall shelf.
Ribbon
Another great material to envelop your empty wine bottle in is ribbon. Just like twine, you'll only need some glue to secure the ribbon.
Pick your favorite color, encase your bottle in it, then maybe you can add a touch of decoration on top. You can add a number, a letter, or a symbol that matches the occasion.
In fact, the more you think about it, the more ideas you should find to recycle and repurpose your wine bottles into vases.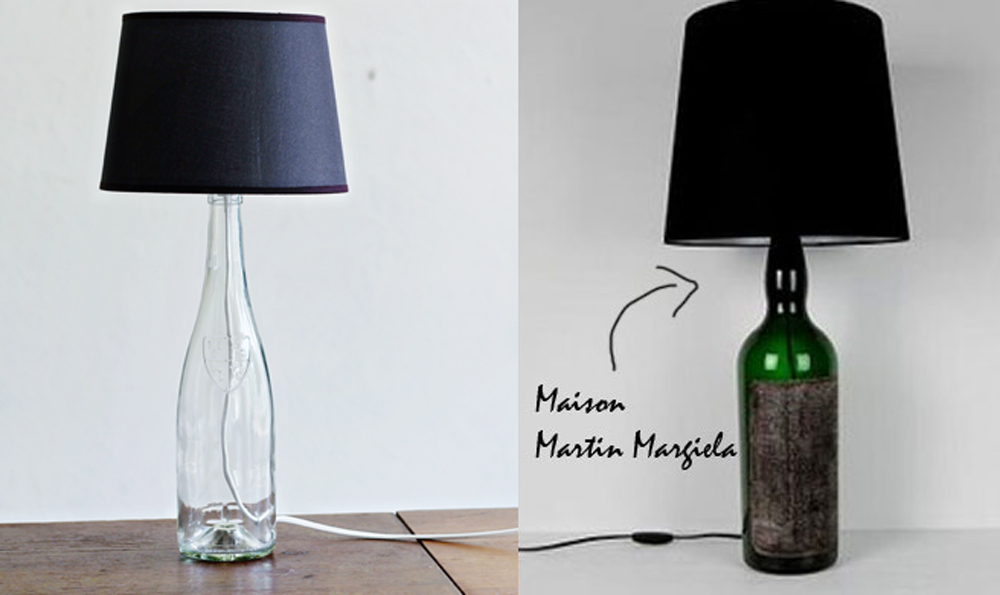 Source: Lana Red Studio
2. Table Lamp Made of Glass Bottles
Wine bottles can be awesome lamp bases. Using the previous tricks or other ways to decorate your empty bottle, all you'll have to worry about is the top of the lamp.
You can use cardboard, twine, or canvas to create the lampshade. The rest of the parts, including the lightbulb and the wiring, can easily be found online.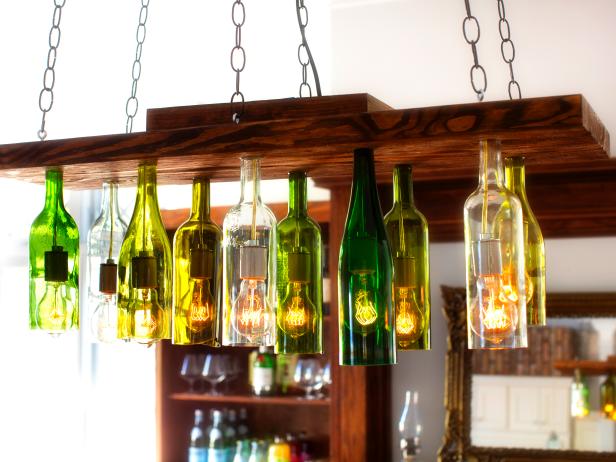 Source: DIY Network
3. A Chandelier / Pendant Light Unit
Here's another way you can use your empty wine bottle for lighting purposes. Except that here, it'll be hanging upside down.
You can cover the exterior with glitter or paint to add some color to your light. Then, insert a small LED bulb inside it and use some rope to attach it to the ceiling.
This rope's raw look and the downcast light from the bottle should match a rustic living room and complement its neutral colors. This is a perfect chandelier for a cottage.
4. Holiday Decorations
You can pick your wine bottles and include them in your holiday decorations, too. You can use paper with a color scheme that matches the holiday you're celebrating to create beautiful designs.  Then, using spray paint and glue, you can encase your bottle with patterns that represent Christmas, Halloween, or St. Patrick's Day.

Source: Reliable Remodeler
5. An Extraordinary Bookcase
This one works if you have a collection of wine bottles, not just one or two. You can make eye-catching bookshelves using two dozen bottles and 4-5 wood planks. Just place two bottles at the end of each plank and stack them high enough to create your own version of a bookcase.

Source: Two it Yourself
6. A Liquid Soap Dispenser
It's always a good idea to benefit from a wine bottle in unusual ways. You can turn it into a liquid soap dispenser to add a homey feel to your bathroom or kitchen.
Furthermore, an empty wine bottle can be used to store oil or vinegar if you care about maintaining your home's aesthetics. These glass liquid soap dispensers are also fun to make with a mason jar.
7. A Jar for Small Items
A wine bottle filled with rice or beans on your kitchen counter should grasp the attention of any visiting friend. Instead of sticking to the boring packaging of these products, this idea should revolutionize the looks of your kitchen.
You can always add a stripe of chalkboard paint on it to change the label of what's inside when you replace it with another one.
8. A Display Unit for Your Special Photos
Thinking outside the box here!
Instead of placing the pictures of your loved ones inside frames, which everybody does, you can stand out. Put these pictures inside wine bottles along with other decorative elements like tiny flowers or rocks.
You can also swath the bottles with a piece of ribbon or tie some twine around its neck to accentuate it.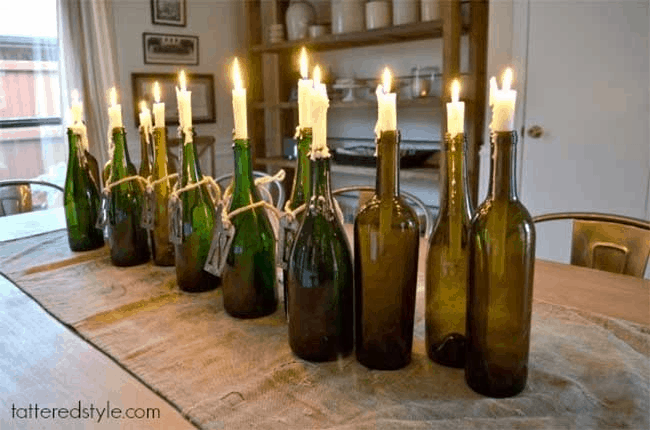 Source: Decoist
9. DIY Candle Holders
Romantic dinners are better with tall candles producing warm lights. You can benefit from empty wine bottles in this area. All you have to do is place a candlestick inside the opening of the bottle, and you're done.
You can tie it with a thread in place or even push it inside until its tip is only visible from the bottle. You're free to decorate the bottle with patterns using twine, glitter, paint, ribbon, or other materials of your choosing.  These can also be used as a cool centerpiece and we think they look great when it's made with old wine bottles.
10. A Bird Feeder
The shape of a wine bottle makes it the perfect candidate to make a DIY bird feeder. You may need extra stuff like squares of wood, a hammer, and nails to secure it to a wall and keep it in place. Still, the results should keep all those morning birds coming back to sing around your house.
—-
Wine bottle crafts are endless if you use your creativity! Hopefully, with the few tips that we've given you, you've come to realize that the fun wine provides doesn't have to stop once the bottle is empty.
Whether in the shape of a nice vase to a beautiful holiday decoration, your wine bottle should be given a second chance at a life in your household. We hope you enjoyed our tutorial on how to upcycle your empty wine bottles!