Growing up, popsicle sticks were THE thing to have. First, you get to eat the delicious sugary ice. Then, after you'd collected enough of them, your craft options were endless. Popsicle stick houses were the most popular creation.
We even held competitions in my household to see who could build the coolest house. We've compiled our list of 10 fun & easy popsicle stick crafts for kids below.
As an adult, I've introduced many of these ideas to my own kids, and have tried to steer them away from pre-planned crafts that only have one outcome (the design seen on the box). My hope is, while making open-ended popsicle stick crafts, they'll learn self-expression.
Maybe I'm just being nostalgic by holding onto popsicle sticks. But for how inexpensive and easy they are to use, they were the best craft material of my childhood. Interested in activating your child's imagination with crafts? Consider these 10 fun and easy popsicle stick crafts for kids.
---
Fun & Easy Popsicle Stick Crafts
Popsicle sticks are probably the most versatile craft supply you can have. The range of popsicle stick crafts for adults and kids is wide enough to keep you crafting every day for a year. As a child, houses with accompanying popsicle stick fences and animals kept me busy for hours. Craft stick snowflakes were another that would hold my attention.
Kids today are no different. They may be constantly dazzled by the next new electronic toy. But they enjoy using their creativity just as much as any child in decades past. The crafts below are easy to make, but they'll spark your child's imagination and keep them entertained too.
There are a million and one ways to make popsicle stick gardens. You can either color the stems and cap them with actual flowers. You can use stickers, ribbon flowers (either pre-made or crafted), or paper flowers. Little flowers, giant flowers, glittery flowers, the choice is theirs.
Turn this into an educational opportunity by labeling the sticks with the alphabet. Then have your child put them in order. Or, turn it into a matching game. Kids can sort all of the same flowers or colors into the same pot.
Your options here are endless.
Airplanes are one of the most interesting things to a child. Most kids (and many adults) love to imagine soaring through the clouds, miles into the sky. Get their imagination off the ground with this easy to make popsicle stick airplane. It really only takes a safety pin, a couple of popsicle sticks, and some markers or watercolor paint.
Popsicle stick bookmarks are simple to make and incredibly cute. The fun thing is that there are many ways to make them. Color them with paint or markers. Top them with flowers, paper action figures, animals, or other favorite images.
Decorate them with stickers and glitter. Or add feathers, ribbons and lace, or felt and foam shapes. The possibilities are truly endless!
Want to know the best part? By creating these craft stick bookmarks, you may even be encouraging kids to read.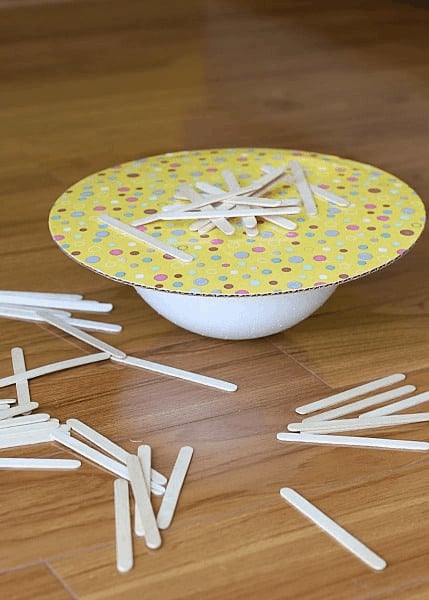 (photo courtesy of Buggy and Buddy)
This project entertains twice! First, you get to make the craft. Then your child can play the game. This means a balancing game made from popsicle sticks is one of your best options for keeping kids busy.
All you need to get them playing is a circular piece of cardboard, a foam ball, some glue, and popsicle sticks. To me, this game is a blend of Jenga and pick-up-sticks, both games of balance and careful decision making. It's sure to keep them occupied for hours, and you might just enjoy playing with them too!
I've always really enjoyed making bracelets. As a child, it was all about the beads. If you had a bead box, you were automatically enrolled in the classroom bartering system. Need some new string to make a bracelet?
I'll trade you four heart-shaped beads. Then there were snap bracelets. Kids couldn't get enough of them. Craft stick bracelets remind me of those. To be honest, I didn't consider popsicle sticks to be a bracelet making material until I saw this tutorial from Molly Moo Crafts.
According to the tutorial, popsicle sticks are reasonably pliable. After soaking them in boiled water for more than 30 minutes, they will bend. Then you can shape them into bracelets. Afterward, wrap them in yarn, color them, or break out the Mod Podge.
Bespangled Jewelry also has a tutorial utilizing string and popsicle sticks. Give your child a few options and see which style they like best, or try them both out.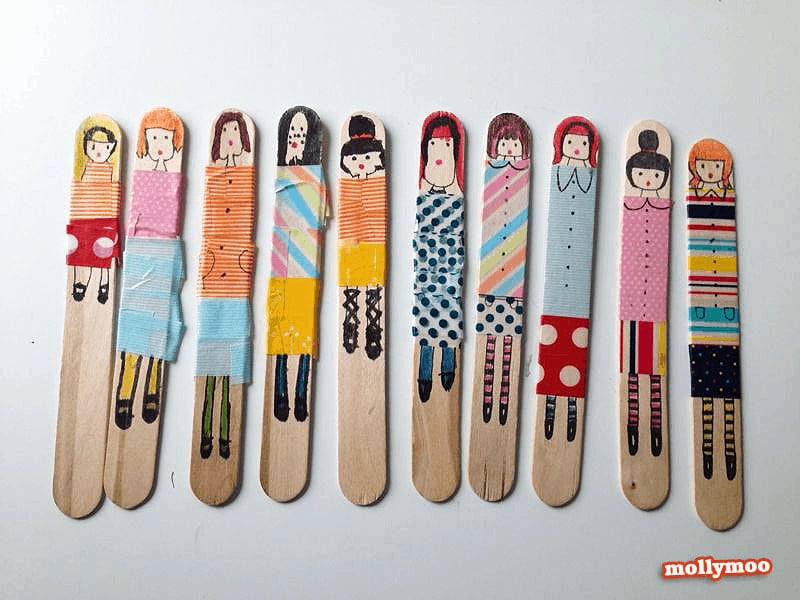 (photo courtesy of Molly Moo Crafts)
Dolls have always been a favorite among children. Luckily, they can be handmade from just about anything. We've seen dolls made of straw, socks and beans, scrap pieces of fabric, and now popsicle sticks. This is where your child can really get creative.
There are any number of physical attributes they can give these popsicle stick dolls. Try big googly eyes, funky frayed yarn for hair, colorful arms made from pipe cleaners, and so much more. They can either draw clothes onto the sticks or make paper or cloth clothes to dress their new dolls. No matter how they design and play with these dolls, they're pieces of pure imagination.
We all need pencils and pens, markers and highlighters. And we all know how common it is for those items to end up at the back of a dusty, crumby drawer. Popsicle stick pencil holders let kids store writing utensils in a fun and easy to reach holder. There are so many ways to design popsicle stick holders.
Give your child's creativity some freedom and see what they can do!
The easiest way to do this craft is to start with an old, clean coffee or soup can. Next, glue individually colored popsicle sticks onto it. If you like, finish it off with a band of colorful ribbon or twine. You'll be thankful for this craft when your child needs a pencil to do their homework.
Kids love creating animals, and doing so helps them learn about the natural world. This popsicle stick snake craft is fun to make and full of interesting color. And it will help your child learn about a fascinating creature in the process. It's even fun to play with once it's completed.
What you need: popsicle sticks, googly eyes, gorilla glue, and press studs. The press studs make it possible to join the sticks together while still letting them move. This makes for more interactive play and the ability to mix and match snake segments.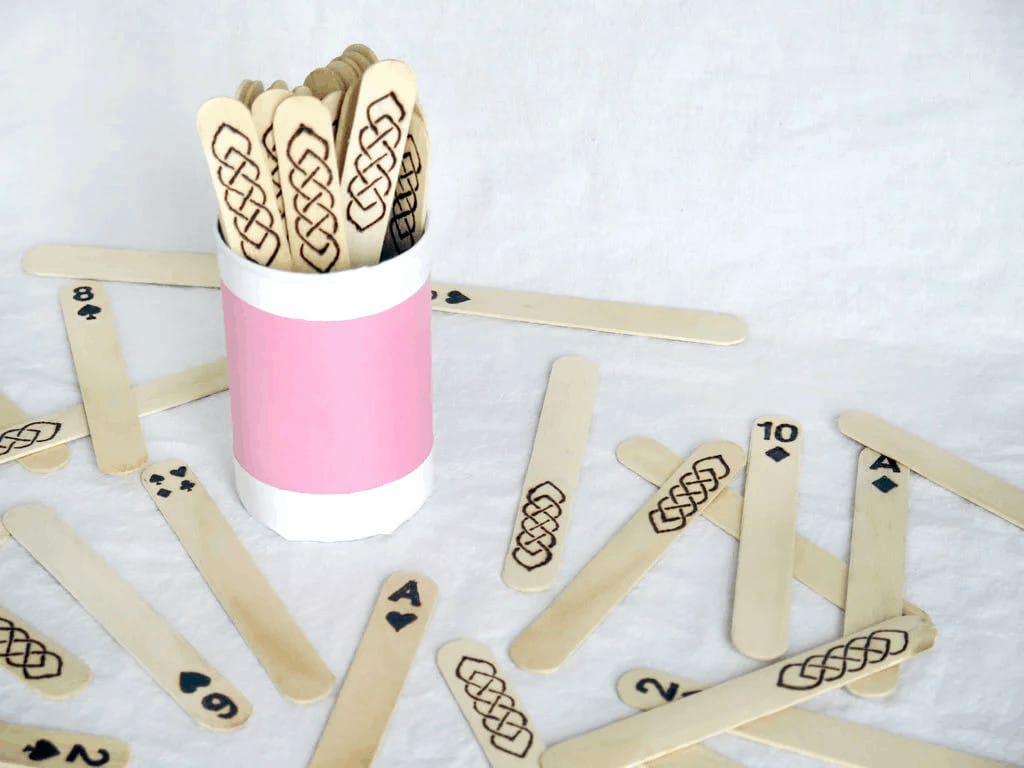 (photo courtesy of Instructables)
This is one of those 5-minute crafts that are great for kids, teenagers, and adults. And it can provide hours of fun later. It really only takes markers, popsicle sticks, and a minimal amount of creativity. I found this idea at Instructables.
There they used a wood burner and added a really beautiful design at the end of the sticks, but it's not necessary at all. As long as you have a sharpie, you can create an entire deck of "cards" with popsicle sticks.
Popsicle Stick Log Cabin
Now at the end of the list, I wanted to include this long-standing favorite. The popsicle stick crafts house or log cabin is simple to make with just glue and popsicle sticks.
Log cabins give children the ability to imagine a home and learn how to create it. They teach basic principles of building and give kids ownership over how it looks. This was one of my favorite things to do as a child, and now it's my children's favorite as well.
Keeping a child entertained can be a difficult task at times. I hope that these crafts and more at Crafts Glossary will help to get their creativity flowing. Need supplies? Check out our list of online craft stores.
Find more fun and easy crafts, and keep your children inspired, at Crafts Glossary.