Creating a DIY craft with loved ones is one of our favorite ways to bond. Worried about expenses? Well, worry no more.
You can use free material: pinecones. You can find this wonder of nature in almost any spot outdoors. With pinecones, you can create elegant decorations and add a splash of modern-rustic charm to your home.
We've included 13 of our favorite pine cone crafts ideas. Read on to find out!

Source: Unsplash
What's A Pine Cone?
Pinecones are the female members of the pine family. They're covered with woody plates, known as "scales."
This type of pine has a vital role in keeping the pine tree seeds safe. In extreme weather, pinecones close their scales tightly to protect the seeds from freezing and wind. The male cones are much smaller; you may have never noticed them. These cones release pollen, which drifts into the air and fertilizes the female cones to become the ones we see on pine trees.
13 Pine Cone Crafts to Try Out Today
Bringing pinecones into the house adds some nature to your indoor environment. So, let's start with the most basic crafts ideas and then walk our way up to transforming magical ones.
Pine Cone Bow Ornament
This is an easy weeknight craft idea to try this winter season. Dress up a pine cone with a bow, then add a piece of twine, and you'll have a DIY ornament for your Christmas tree.
Source: Pinterest
Glittered Pinecones
With a sparkly look, pinecones can give life to your house by simply adding some glitter to it.
To create glittered pinecones, you'll have to first bleach the cones. Then, add some glue and sprinkle whatever color glitter you want on it.
Source: Kids Craft Room
Pom-Pom Pinecones
Besides being fun to say, colorful pom-poms are a delightful addition to pinecones. Decorate them with pom-poms by adding some glue then sticking them between the scales.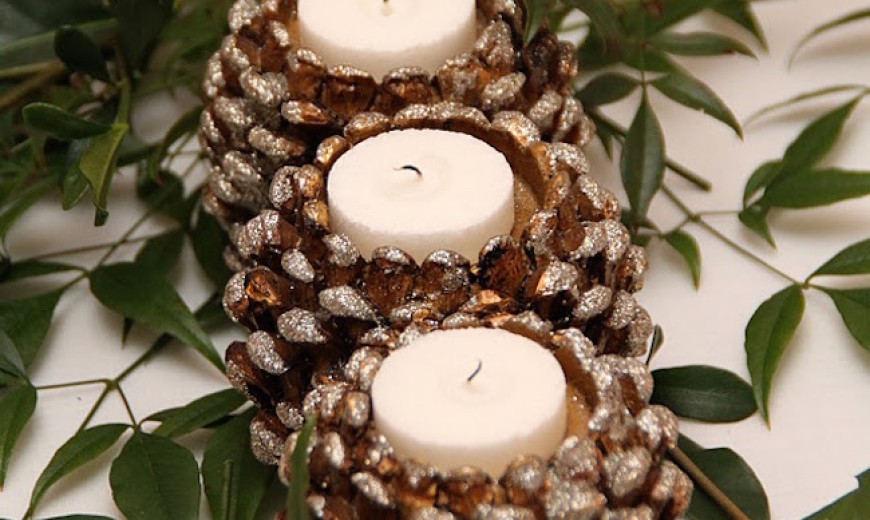 Source: Decoist
Pinecone Candle Holder
This craft is simple yet very eye-catching. You can spray the pinecones with color paint to match your home decor.
Cut a few soda can tabs to create a base for the candles. Glue the buttons to the top of the cones, and voila, you have elegant candles for your house.

Source: One Little Project
Spunky Elves Pinecones
This homemade Christmas craft will surely add the festive spirit your home needs. You'll need small pinecones, pipe cleaners, and wooden beads to make the heads.
Attach the wooden beads to the small cones using glue. Draw the faces of the elves with permanent markers. Then, fix the pipe cleaners to make the arms and legs.
Pinecone Garnish
You can hang this craft on a bare wall in any room of the house, and you'll have the Christmas vibes we all love.
To make your garnish, all you need is a couple of pinecones, a bunch of green branches, and a heavy-duty floral wire to wrap everything together.

Source: DigsDigs
Pinecones Fireplace Decorations
This idea is a super easy one. All you need to do is hang some inverted cones on a braided picture-hanger wire.
Chandelier Swag
Add some wintertime display to your chandelier and enjoy the holiday vibes.
You can surround your chandelier with some fresh greenery and a few pinecones. Make sure to use some invisible fishing line to keep everything in place throughout the season.
Source: Pinterest
Glass Cloche Pinecone
Turn backyard finds into frosty works of art by adding some fake snow.
Put them underneath a glass cloche misted with some of the same icy spray, and you'll have an easily-made snow globe.

Source: Lia Griffith
Felt Pinecone Fox
Pinecones could also create some amazing things for our little ones. Whether you want to decorate your child's desks or encourage them to expand their imagination, this fun craft will do the job.
For the foxes, cut pieces of felt or cardboard according to the pattern you have, let your little one color them, then use a glue gun to attach them to pinecones.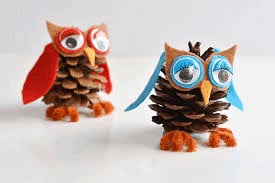 https://onelittleproject.com/pinecone-owls/
Hoot Hoot Owls
For both kids and adults, this craft idea is cute and easy. You'll need two pinecones, felt, googly eyes, and feathers.
Take the two pinecones and glue them to each other. Make sure the pointy parts of the cones are face to face. For the ears of the owl, you can use feathers or felt.
Pinecone Tree
This idea can be used both if you're a little too late to get a Christmas tree or if you just like small decorative trees around the house.
Make a cone-shaped base by using cardboard or foam, depending on your budget. Anchor the base in a container. Then insert picks downward into the foam, or use glue and arrange the cones around the base.
Start at the bottom with the largest cones and work to the top with the smaller ones. Conceal the foam by tucking some sheet moss among the pinecones.
Crystal Pinecones
This one is a bit more challenging to create, but all of its materials can be easily found in any household.
Spray the pinecones with an adhesive spray, then sprinkle some salt on them as if glittering. Allow it to dry, then add the cones to a cool, saturated solution.
Within a few hours, crystals will form on the pinecones. Now, remove the cones carefully from the solution, and set them on a drying rack for a couple of days.
Pro tip: to preserve the crystals, seal with glossy, polyacrylic spray.
Final Thoughts
Pinecones are one of the most unique plants in the world and you can use them on so many different occasions. They can be easily found almost everywhere, and by adding them to your house, you'll have the majestic vibes of nature indoors. We hope you've enjoyed our pine cone crafts for kids and adults. Send us your photos!
Pinecones work as a modern, budget-friendly solution for homemade decorations. Whether you decide to add them to your Christmas tree or make a whole tree out of them, pinecones will never fail in adding the modern-rustic charm to your home.